Cartop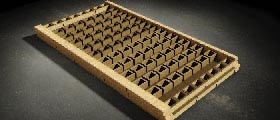 Resco Products, Inc. has manufactured PACO Cartop Block for over 75 years. While kiln cars have changed tremendously in that time, Resco's commitment to making quality cartop mixes and solutions has not wavered. View our Cartop Products!
Resco Product's pyrophyllite deposit provides our cartop mixes with excellent thermal shock resistance and unparalleled hot modulus of rupture. Whether it's developing cartops to suit a specific need or redesign a shape or car to improve efficiency, Resco remains at the forefront of kiln car technology and cartop solutions.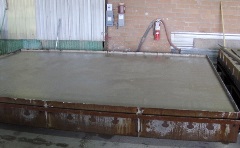 Resco Products provides a wide variety of refractory cartop and extruded blocks for all applications and industries. Resco Products offers a variety of Mix Cartop and MassTech an extruded and fired clay-based kiln furniture.
KC Mix – Is a strong but lightweight insulating castable of about 60 lb/ft3 that can be used in various parts of the kiln car sub-deck. It is especially useful directly above the steel of the kiln car to provide a level, strong, and stable base from which to build the remaining levels of the car.



Rescocast 3-20R – This is a super lightweight castable. Lightweight Rescocast 3-20R poured between I-beams in the sub-deck of kiln car



Uniform 50CT - Is our precast mix that is proving itself in the brick industry as a superior performer for large precast deck shapes, corners, and sub-deck applications.


Uniform 50CT 37" square deck plate
Paco #18 & Paco#19 mixes are proven as long-lasting options for kiln cartop in the brick, sanitaryware, pottery, and other ceramic industries. #35 cartop mix retains the excellent thermal shock resistance of #18 & #19 mix but has a higher firing range which makes it an especially good choice for densely loaded kiln cars fired as high as 2400F. #40 mix is proven in the rugged conditions demanded of super-duty firebrick manufacture and can be used at temperatures as high as 2500F.